The intrinsic geometry of the human brain connectome
Brain Informatics
Brain Data Computing and Health Studies
2015
2:22
Received: 26 September 2015
Accepted: 22 October 2015
Published: 7 November 2015
Abstract
This paper describes novel methods for constructing the intrinsic geometry of the human brain connectome using dimensionality-reduction techniques. We posit that the high-dimensional, complex geometry that represents this intrinsic topology can be mathematically embedded into lower dimensions using coupling patterns encoded in the corresponding brain connectivity graphs. We tested both linear and nonlinear dimensionality-reduction techniques using the diffusion-weighted structural connectome data acquired from a sample of healthy subjects. Results supported the nonlinearity of brain connectivity data, as linear reduction techniques such as the multidimensional scaling yielded inferior lower-dimensional embeddings. To further validate our results, we demonstrated that for tractography-derived structural connectome more influential regions such as rich-club members of the brain are more centrally mapped or embedded. Further, abnormal brain connectivity can be visually understood by inspecting the altered geometry of these three-dimensional (3D) embeddings that represent the topology of the human brain, as illustrated using simulated lesion studies of both targeted and random removal. Last, in order to visualize brain's intrinsic topology we have developed software that is compatible with virtual reality technologies, thus allowing researchers to collaboratively and interactively explore and manipulate brain connectome data.
Keywords
Diffusion MRITractographyDimensionality reductionVirtual realityConnectomics
1 Introduction
Magnetic resonance imaging (MRI) techniques have allowed us to noninvasively study the human brain both anatomically and functionally. The complex interactions between different regions of the brain have necessitated the development and growth of the field of connectomics. A brain connectome at the macroscale is typically mathematically represented with connectivity matrices that describe the interaction between the different brain regions. Most current connectome study designs are based on brain connectivity matrices, which involve the computation of summary statistics on a global or nodal level [1]. However, current connectome visualization methods typically represent anatomic and functional connectivity data using somewhat arbitrary or heuristic methods [2]. In this study, we address this shortcoming by developing a framework that realizes, constructs, and visually represents the complex intrinsic geometry or topology of the entire brain network.
Classical linear techniques for dimensionality reduction such as principal component analysis (PCA) and multidimensional scaling (MDS) are computationally efficient and suitable for linear structures [3]. However, neural networks represent highly nonlinear data and may exhibit more complexity than what PCA or MDS are designed to detect [4].
Thus, we propose to use nonlinear dimensionality-reduction algorithms that maintain the advantages of PCA or MDS, namely, computational efficiency, global optimality, and asymptotic convergence guarantees. Nonlinear dimensionality reduction solves the well-known "Swiss roll problem," where the shortest Euclidean distances between data points at a higher-embedded dimension are not representative of the actual geodesic path along the low-dimensional manifold i.e., the intrinsic geometry (in the case of the Swiss roll, the intrinsic geometry is a 2D plane which is rolled up in a 3D space). Intuitively, this was accomplished in Isomap [5] by modifying the classical MDS. Isomap reconstructs the path length for points that are far away by adding up a series of steps between nodes to approximate its geodesic distance. As a result, Isomap was described by the authors to be a "complete isometric feature mapping."
In recent years, other dimensionality-reduction techniques have been proposed and examined for comparisons versus Isomap (e.g., locally linear embedding (LLE) [6], Laplacian eigenmaps [7], diffusion maps [8], and t-distributed stochastic neighbor embedding (t-SNE) [9]). One goal of this paper is to examine the intrinsic geometry of the brain and to see if "crowding" of data points in the lower-dimensional embedding is an issue that requires more advanced dimensionality-reduction techniques.
Clinically, previous work with nonlinear dimensionality reduction has been applied to large datasets consisting of a combination of imaging and non-imaging data (lab measurements, gene sequencing), assembled to develop accurate biomarkers to better understand disease progression [10]. t-SNE in particular has been used to explore areas such as breast cancer [11] and proteomics [12].
To the best of our knowledge, this paper represents the first application of dimensionality reduction to reveal the brain connectivity's intrinsic geometry. To put into context why the intrinsic geometry may be a better space to understand brain connectivity data, we can look at the field of cartography. For decades, cartographers have mapped quantitative data onto world maps to create unique, informative visualizations. For example, by resizing regional areas of the state of New York according to the incidence of lung cancer, one can show graphically that New York City occupies the largest area and therefore has the highest incidence of lung cancer [13]. Similarly, dimensionality-reduction techniques remap the brain according to its connectivity such that in the resulting geometry the shape the connectome assumes is independent of the anatomic distances between nodes. Using tractography-derived structural connectomes to illustrate this point, the proposed approach relies on the intuition that, as long-range fiber pathways (e.g., the superior longitudinal fasciculus or SLF) connect brain regions that are physically relatively far apart, its topology may thus be better determined using the corresponding connectivity matrix, rather than the inter-regional anatomic distances.
4 Discussion
Using dimensionality-reduction techniques, we described a novel mathematical framework that creates 3D-embedded mappings representing the intrinsic geometry or topology of the human brain connectome. These embeddings can thus be thought of as the "native space" of brain connectome. Comparing results generated from tractography-derived structural connectome (Fig. 3), we showed that this intrinsic geometry only minimally relates to neuroanatomy. Thus, conventional visualization techniques that depict connectivity data in the neuroanatomic space may not be optimal (along similar lines, other recently proposed visualization techniques also used somewhat heuristic and arbitrary methods [2]).
Using two unique dimensionality-reduction algorithms, one linear (MDS) and one nonlinear (Isomap), we demonstrated the nonlinearity of this native space. Indeed, as shown in Fig. 4 the MDS-based 3D embedding exhibits a nonlinear relationship with the graph distance computed from the corresponding structural connectivity matrix, while the Isomap-based 3D embedding exhibits mostly a linear one. Moreover, visually MDS-based embedding suffers from the "crowding" problem (right panel of Fig. 3A), a known issue for linear techniques when the underlying geometry is nonlinear. This problem can be best understood using the famous "Swiss roll" example [5]. Here, the underlying intrinsic geometry of the Swiss roll is a 2D "sheet," which is then rolled up and embedded in a higher-dimensional space (3D). As a result, the shortest 3D Euclidean distance between two points on the Swiss roll can be mistakenly much shorter than the true geodesic distance (i.e., the actual shortest distance needed to travel from one to the other if we reside in the space as defined by its intrinsic geometry). This thus creates "crowding" when a linear technique such as MDS is used, but could additionally entirely misrepresent the underlying true topology.
At this point, one may ask the following interesting question. If we do not limit ourselves to 3-D embeddings due to their easier visualization, what is the optimal dimension in which the native space of the structural brain connectome could be best represented? To address this, we additionally conducted analyses similar to Fig.
5
B, this time varying the number of dimensions of our Isomap embedding from 1 to 8 and computing the root mean squared error (RMSE) of the Euclidean distances to the origin of the embedding, after subtracting those accounted for by nodal path lengths. Results (Fig.
10
) showed that the RMSE leveled off between
N
= 4 and 5, while
N
= 3 already accounted for a substantial amount of the residual variance (as measured using RMSE).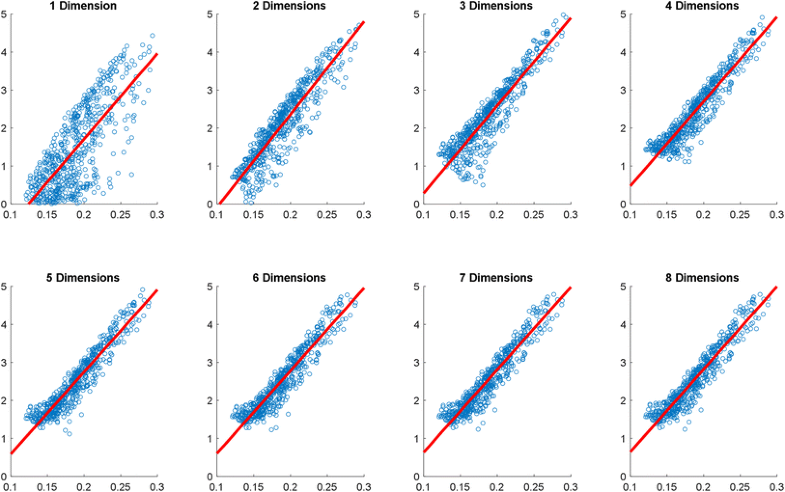 Next, using targeted attacks versus random node removal, we demonstrated the potential utility of the proposed framework, as this intrinsic geometry is sensitive to alterations in the underlying connectivity. Our approach may have clinical implications. For example, it can be used in surgical planning to quantitatively understand how lesions, either real or planned, can affect brain connectivity. Similarly, one may use such a visual representation to better detect differences in clinical cohorts, or to longitudinally track connectivity changes over time in individual brains.
The results of different removal strategies warrant further discussion. Note that removing nodes with the lowest 21.5 % of nodal clustering coefficient (right panel of the top row, Fig. 9) minimally impacts structural connectome's intrinsic geometry, suggesting that clustering coefficient probes a network property that is to a great degree decoupled from properties such as nodal path length or strength. Also, the geometry of the brain connectome formed by the 68 cortical gray matter regions (i.e., removing Freesurfer-defined subcortical regions from the connectome) largely remains unaltered compared to the complete connectome formed by both cortical and subcortical regions. This relatively preserved efficiency of cortico-cortical communications (as evidenced by the intact shape of the geometry) thus suggests two parallel systems or "routes" of communication, one via the subcortical regions and the other entirely bypassing them. Based on these findings, we posit that one system (e.g., the subcortical routing) does not necessarily dominate the other; instead they work in conjunction and likely provide complementary functions to each other [26].
Another corollary to our findings is that regions that are mapped closer to the center in this native space are not all traditionally designated as having the rich-club property. Indeed, as shown in Figs. 6 and 7, the left and right caudate, pallidum, paracentral lobule, and caudal anterior, posterior, and isthmus cingulate are all relatively centrally located. Intuitively, one can hardly argue against the importance of these non rich-club nodes that consist of other subcortical regions (caudate and pallidum) [27–29], regions instrumental for sensori-motor function (paracentral lobule) [16, 30, 31], and regions known to be part of the limbic system (components of the cingulate) [32, 33]. Moreover, all these regions are considered highly embedded as recently shown in [23].
To provide an immersive visualization environment for these novel 3D representations, we have developed the BRAINtrinsic software, which is fully compatible with the Oculus Rift portable virtual reality technology (Oculus VR, Menlo Park, CA) (see Fig. 1 inset), thus allowing researchers to immerse themselves in these novel representations of brain connectivity through stereoscopic goggles. In order to help stimulate more research activities in this direction in the larger neuroimaging community, BRAINtrinsic is publicly available at http://creativecodinglab.github.io/BRAINtrinsic/.
5 Conclusion
In this paper, we present a comprehensive treatment on the topology of the human brain connectome. While being novel, our framework outlined an entirely new way to conceptualize, visualize, and interact with connectivity data in its native space. In this space, the location and relative position of a region have intuitive interpretations in that the regions that are more important are more centrally embedded, while two regions that exhibit similar patterns of coupling with the rest of the brain are mapped near each other. The proposed framework could be easily adapted to multimodal data obtained from other types of brain imaging as well (e.g., EEG or MEG data). Examples of practical applications may also include subsequent changes in structure and function during normal development or monitoring disease progression in various neuropsychiatric disorders [34–38]. In addition, the topology of brain connectome after dimensionality reduction could be compared groupwise in disease states, and/or could be regressed with respect to various dimensional phenotypic measures.
Declarations
Acknowledgments
Research reported in this article was supported in part by the National Center for Advancing Translational Sciences, the National Institutes of Health (NIH), under Grant TL1TR000049, and the National Institutes of Mental Health to Anand Kumar, M.D. (R01 MH-073989) and Olusola Ajilore, M.D., Ph.D. (K23 MH-081175). The content is solely the responsibility of the authors and does not necessarily represent the view of the NIH. We would also like to thank Alessandro Febretti for technical support.
Open AccessThis article is distributed under the terms of the Creative Commons Attribution 4.0 International License (http://creativecommons.org/licenses/by/4.0/), which permits unrestricted use, distribution, and reproduction in any medium, provided you give appropriate credit to the original author(s) and the source, provide a link to the Creative Commons license, and indicate if changes were made.
Authors' Affiliations
(1)
Department of Bioengineering, University of Illinois at Chicago, Chicago, USA
(2)
Department of Psychiatry, University of Illinois at Chicago, Chicago, USA
(3)
Department of Computer Science, University of Illinois at Chicago, Chicago, USA
(4)
Computer Engineering Program, Engineering and Technology Department, University of Wisconsin-Stout, Menomonie, USA
(5)
Department of Radiology, University of Illinois at Chicago, Chicago, USA